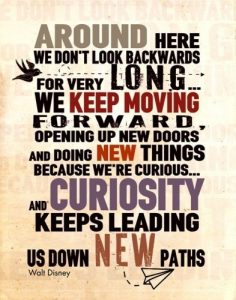 How do you view your life? Do you think your best days are behind you, or are your best days are ahead of you?
"The best is yet to come." William Shakespeare
When Executive Director, John Capes reminded me that this month's article is his last, it got me thinking about the question I presented you with above, "How do you view your life?"
At retirement, one may wonder, "Are my best days ahead?" Retirement should be an exciting time; a new chapter filled with uncharted paths. It's not the end of the story, it's the beginning!
We all need to be reminded that we are defined by who we are, not what we do.
All too often we hear people say things like, I'm a has been, I'm not as young as I used to be, back in the good ole days, I can't do that, I'm not a spring chicken anymore and the list goes on and on. If you really think that you don't have any more good-ole days, you might as well not even get out of bed! Sound a little harsh? Think about it; why get up if there's nothing to look forward to?
I choose to think differently and I dare to believe that most of you think differently too. Do you believe the last chapters of your life can be your best? Do you believe it? I do! Don't let age be an enemy; it's just a mile marker! Don't let your past hold you back, celebrate the journey ahead, embrace the new and expect each day to be your best!
"What a wonderful thought it is that some of the best days of our lives haven't happened yet." Unknown
So back to Executive Director, John Capes. Happy retirement John! We pray that you and Tina embrace every day that hasn't happened yet and may God bless you both with good health and prosperity. May your retirement bring you all that you hope for. We love you both and appreciate your love and dedication to all of us at Moosehaven.
I leave you with a few thoughts for retirement…
• Retirement is like coming home one day and telling your wife, honey, I'm home… for good!
• Retirement isn't the end of the road, but just a turn in the road.
• Now Fridays aren't the best day of the week anymore… they all are!
• Retirement is the only time in your life when time no longer equals money.
• You have to put off being young until you can retire.
• Enjoy working at living, rather than living at work.
• There really are two lives we live. The first life and then the second life when we realize we only have one life.
There are far, far better things ahead than any we leave behind. C.S. Lewis
Simply Helen